Prime Minister Jacinda Ardern's Resignation Speech
Today, I have two important announcements to make. The first is the election date. Under the last government, the practice began sharing the election date at the beginning of election year.
Early announcements allow for planning and for preparation by the Electoral Commission, by government agencies and political parties, and is, I believe, best practice. That's why in 2020 we announced at the beginning of election year, and I do so again today.
The General Election for 2023 will be held on Saturday the 14th of October.
I can see in the room who has won the sweepstake.
In setting this date, I have considered the advice of the Electoral Commission, public holidays and school holidays, the advance voting periods, and important events and fixtures. I believe this date best accommodates each of these factors.
Consideration of the date over the summer, and the impending election and new political term has also given me time for reflection.
I am entering now my sixth year in office. And for each of these years, I have given my absolute all.
I believe that leading a country is the most privileged job anyone could ever have but also one of the more challenging. You cannot and should not do it unless you have a full tank, plus a bit in reserve for those unexpected challenges.
This summer, I had hoped to find a way to prepare not just for another year, but another term – because that is what this year requires. I have not been able to do that.
And so today, I am announcing that I will not be seeking re-election and my term as Prime Minister will conclude no later than the 7th of February.
This has been the most fulfilling five and a half years of my life, but has also had its challenges.
Amongst an agenda focused on housing, child poverty and climate change, we encountered a major biosecurity incursion, a domestic terror event, a major natural disaster, a global pandemic and an economic crisis. The decisions that had to be made have been continual, and they have been weighty.
But I am not leaving because it was hard. Had that been the case, I probably would have departed two months into the job.
I am leaving because with such a privileged role comes responsibility – the responsibility to know when you are the right person to lead, and also, when you are not.
I know what this job takes, and I know that I no longer have enough in the tank to do it justice. It is that simple.
But I absolutely believe and know there are others around me who do.
We've achieved a huge amount in the last five years. And I am so proud of that.
We are in a fundamentally different place on climate change than where we were, with ambitious targets and a plan to achieve them.
We have turned around child poverty statistics and made the most significant increases in welfare and the state housing stock that we've seen in many decades.
We've made it easier to access education and training.
We've improved the pay and conditions of workers, and shifted our settings towards a high-wage, high-skilled economy.
And we've worked hard to make progress on issues around our national identity, and I believe that teaching history in schools and celebrating our own indigenous national holiday will all make a difference for years to come.
And we've done that while responding to some of the biggest threats to the health and economic wellbeing of our nation arguably since World War II.
The team that has done all of that – they have been some of the best people I have ever had the privilege of working with, and they are well-placed to take us forward as we continue to focus on our economic recovery with one of the strongest economies in the world.
They are also a team who are incredibly well-placed to contest the next election. In fact, I am not leaving because I believe we can't win the election, but because I believe we can and will, and we need a fresh set of shoulders for that challenge.
I know there will be much discussion in the aftermath of this decision as to what the so-called "real" reason was. I can tell you that what I am sharing today is it.
The only interesting angle that you will find is that after going on six years of some big challenges, I am human. Politicians are human. We give all that we can for as long as we can, and then it's time. And for me, it's time.
I intend to remain the Member for Mt Albert through till April. This will give me a bit of time in the electorate before I depart, and also spare them and the country a by-election.
Beyond that, I have no plan; no next steps. All I know is that whatever I do, I will try and find ways to keep working for New Zealand and that I am looking forward to spending time with my family once again – arguably, they are the ones that have sacrificed the most out of all of us.
And so to Neve, mum is looking forward to being there when you start school this year.
And to Clarke, let's finally get married.
As for the next Labour Leader. The caucus has seven days to ascertain whether one individual holds more than two thirds of the caucus support.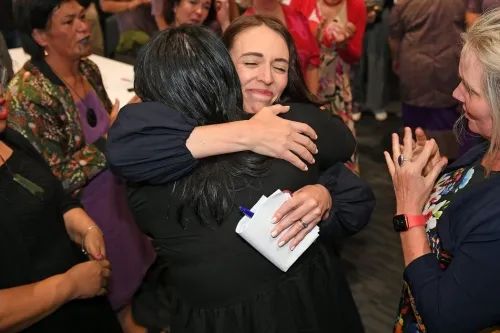 Caucus has today agreed that a vote will occur in three days' time on Sunday the 22nd of January. If a leader is successfully elected, I will issue my resignation soon after to the Governor-General, and a new Prime Minister will be sworn-in.
If no one is able to garner this level of support within caucus, the leadership contest will go to the wider membership.
My opportunity to thank the many people I need to will likely come in April when I depart Parliament, 15 years after having been sworn-in.
Till then, I see my role to help the Labour Party, who I consider to be my family, navigate this next phase, and then, to leave the next colleague who takes on this role all the space they need to make their mark.
For my part, I want to finish with a simple thank you to New Zealanders for giving me this opportunity to serve, and to take on what has and will always be the greatest role of my life.
I hope, in return, I leave behind a belief that you can be kind but strong, empathetic but decisive, optimistic but focused. That you can be your own kind of leader – one that knows when it's time to go.
I'm happy to take your questions.